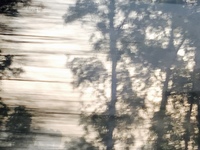 In my work I explore the experience of adjusting, adapting and remaking. I use darning and inlay to bring different surfaces together, or to fill a hole or gap. The fabric/paper is made whole again, and a unified surface is created. The pieces are dependent upon each other. If taken apart a hole remains, and the parts are the parts that fit together to make the piece whole again.
My work shifts between the tangible, political and personal realms. A seemingly small event can alter one's being, our society, and our physical environment in a very substantial way. I examine these everyday small alterations poetically through my work. The darned/inlayed hole often takes on the shape of a home or building, alluding to mental constructs and everyday existence. I collect these shapes through drawing. The shapes are additions to existing buildings, additions created to meet the inhabitant's current needs. My experience of living between cultures, and assimilating, lead me to this investigation.
The old lives with the new, and a new existence is made.